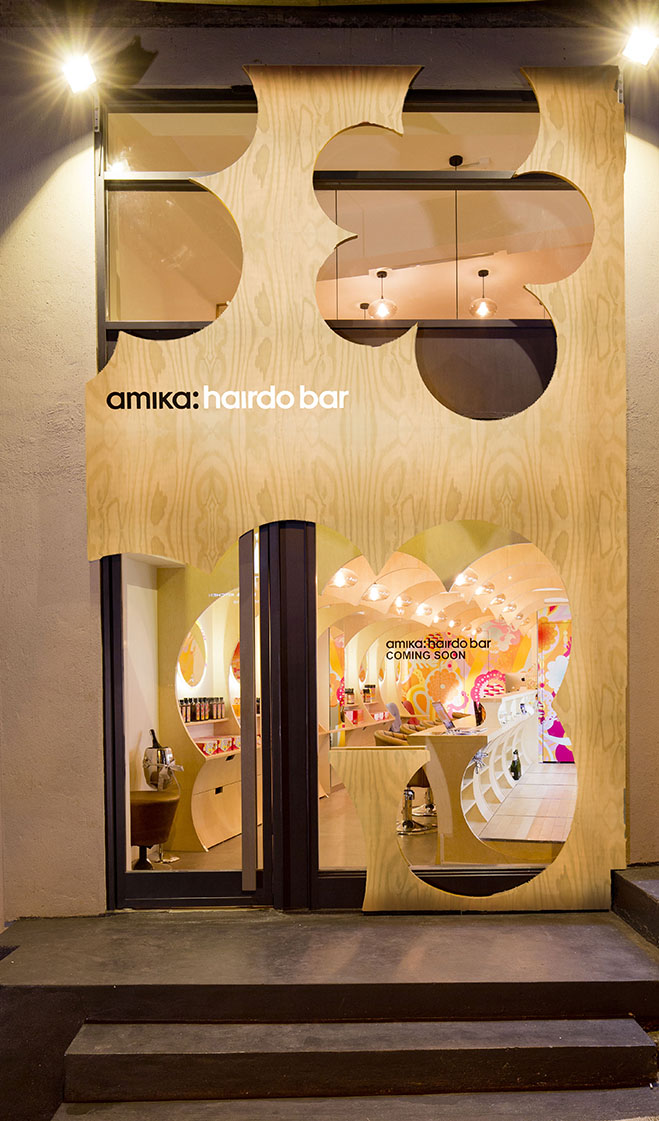 Amika Hairdo Bar
HAIRSTYLING SALON
2013
Location: Hong Kong, China
Budget: $90,000
Description: Amika: Hairdo Bar, a two-story, 700-square-foot hairstyling salon, will open June 11 in Hong Kong. "We're demystifying hair styling, making things faster and easier," said Vita Raykhman, 31, the creative director of Amika, a Brooklyn hair products company. The Hairdo Bar, Amika's first salon, will allow a woman to change her image in less than 40 minutes "without the commitment of a cut or a color," Ms. Raykhman said. Customers will be offered a choice of 12 hair styles, with prices ranging from $24 to $70. Guy Zucker of Z-A Studio in Manhattan designed the space on a budget of $90,000 using the company's flower-shaped graphic identity as an architectural motif. On the first floor, the birch plywood walls are cut into floral silhouettes, and flowers are printed on the wallpaper in the rear. Upstairs, the flower shape is applied to the booths. Hairdo Bar is at 8 Elgin Street, Hong Kong, 011-852-2291-0070. Three additional shops will open in New York City next year.
Publications:
The New York Times - "Rampant Blooms, but No Color"